Sleep disorders, such as snoring and apnea, are more than just a nuisance – they can be related to many health risks. This is why effective and timely treatment is vital. Constant Positive Airway Pressure (CPAP) still remains the most successful treatment for sleep apnea. While patients often complain about its inconvenience, it helps them breathe through the night and get the rest they need.
The good news is that with the year 2016 fast approaching, the technology of sleep aid does not stand still either. Our hope is that technological advances will help eliminate the discomfort of using CPAP masks, while keeping the benefits of the therapy.
Today we would like to highlight some of the revolutionary sleep aid gadgets to be released in the near future. As always, it is important to consult a doctor before starting or switching to a new treatment. With physician's approval, these inventions could significantly improve the lives of people with sleep disorders.
Silent Partner – tackling snoring from a new angle.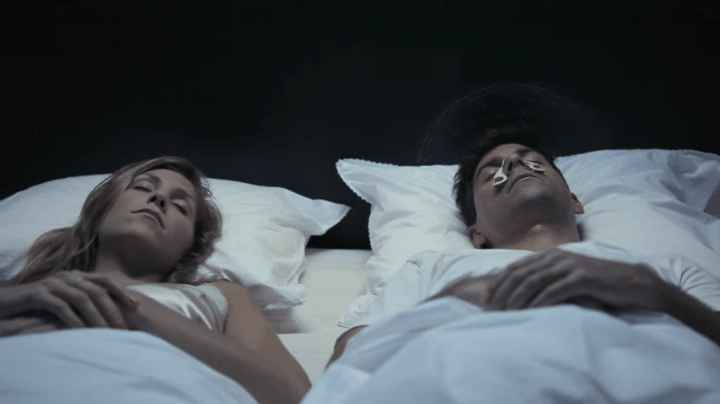 Snoring can be caused by a range of factors, from temporary, such as a sinus infection or alcohol consumption, to more serious issue such as sleep apnea.
Always remember to consult your doctor about your sleep issues. If you are certain that your snoring bears no further health risks other than what your sleepy and angry partner could do to you in your sleep, Silent Partner is the solution for you.
Image from http://www.silent-partner.co
Silent Partner is a clever device that senses snoring and, using an Active Noise Cancellation technology, creates a Silent Zone around it. Light and flexible, the gadget is attached to the nose with hypo-allergenic medical-grade adhesive patches.
If you and your partner are tired of snoring symphonies, this would be a wonderful opportunity to show your care and let your loved one enjoy a good night's sleep.
Silent Partner is scheduled to be released on the market in November 2016, with the retail price of $99. However, their Indiegogo fundraising campaign is currently offering to pre-order one of these life-changing devices for $59 (40% off the retail price), two for $99, or add additional benefits for a larger contribution to the campaign.
Silent Partner does not treat snoring or sleep apnea, but it could save a lot of household hassle by allowing snorers' partners to sleep peacefully.
Airing – the world's first CPAP device with "no strings" attached…
…or in CPAP terms – no masks, hoses, cords or humidifiers! It is a miniature gadget that will be plugged directly into a person's nose with soft silicone buds. Despite the miniature size, Airing will provide the same range of pressure as a standard CPAP machine, ranging from 1 to 20. Furthermore, it will be recyclable and suitable for one-time use, thus eliminating the inconvenience of cleaning.
Image from http://www.fundairing.com
The price will be $3 apiece. The device is awaiting FDA approval; however, the company believes the process will be expedited, as this is a modification of an already existing CPAP technology.
Visit Airing's website to learn more, or support Airing's Indiegogo's campaign here.
Winx by ApniCure – a vacuum technology to combat sleep apnea.
This device uses an opposite
approach to CPAP: a technology called Oral Pressure. Instead of sending air through the patient's airway, it opens up the airway for better breathing.
The machine itself consists of a vacuum console with a thin tube and a soft, flexible mouthpiece at the end. The mouthpiece is placed directly on top of the tongue, and as stated by ApniCure, "Winx gently draws the soft palate forward and stabilizes the tongue to actively open the airway for uninterrupted breathing during sleep."
Image from http://apnicure.com
Winx will be effective for people with all types of obstructive sleep apnea: from mild and moderate to severe.
Visit ApniCure's website to learn more about Winx.
Among just the three devices, the variety and creativeness of solutions makes the future for people with sleep disorders look much brighter. It is encouraging to see doctors and entrepreneurs stepping up to allow patients sleep better, and consequently, live better.
However, as we are looking forward to the release of these new machines for snoring and sleep apnea, to this day CPAP still remains the gold standard of sleep apnea treatment.
If you are tired of suffering from fatigue and connected health issues, request a PAP appointment today.
Other posts you may find interesting: